Mark your calendar now for June 10, 2017!
The Garden Club of Shawnee will present the Garden Sampler Tour from 9:00 am to 5:00pm on Saturday, June 10, 2017. The tour features 6 unique and beautiful gardens, all right here in Shawnee. See below for descriptions of the gardens, as each has it's own distinctive style. Featured pictures preview the excitement we'll have that day, but you must see these with your own eyes!
Beginning May 1, tickets will be for sale the following locations: Family Tree Nursery in Overland Park & Shawnee, Hartman Hardware in Shawnee, and Wild Birds Unlimited in Shawnee. Online ticketing is available through Eventbrite at https://www.eventbrite.com/e/shawnee-garden-tour-tickets-33982797462
Purchase raffle tickets while on tour for a chance to win some great prizes!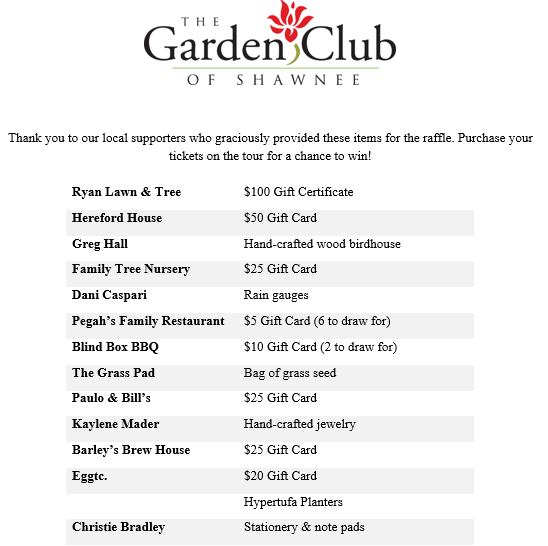 Proceeds from the tour are used for the club's grant program, which provides funds to Shawnee schools, churches, museums, and non-profit organizations to support their gardening projects which help fulfill the club's objectives. Tour proceeds are also used to maintain the Shanna Morrison Memorial Rose Garden in West Flanders Park.
Bradley Garden
This slideshow requires JavaScript.
Featuring both shade and sun perennials with colorful annuals mixed in, the Bradleys' various garden spaces provide scenic backdrops for their photography business. In addition to a multitude of hummingbird, bird, and butterfly-attracting natives, like coneflowers, daisies, phlox, coreopsis, fairies, fairy gardens and special Mother's Day gifts add a decorative touch. Expanding, learning, and evolving over the years, this everyday gardener now has a yard with something blooming spring through fall. Come enjoy!
Roberts Garden
This slideshow requires JavaScript.
The Roberts' garden is really a backyard made for fun! There is a large swimming pool, deck, covered patio, and outdoor fireplace. The cooking area includes a complete kitchen with gas range, microwave, and granite counter tops. There is a built-in grill and large smoker with a stainless steel lid that is so heavy it has to be opened by a hydraulic lift! In addition, there is a wood-fired pizza oven and a real working antique coke machine. The gardens include large trees, bushes, and flowering plants as well as numerous pots filled with a variety of flowers and greenery. Finally, the backyard has a raised pond and waterfall filled with koi and goldfish. The yard is definitely perfect for entertaining!
Riehle Garden
This slideshow requires JavaScript.
A garden that remembers when….
Broad brick steps outlined with dark wooden beams lead to a welcoming brick patio entrance. To the left is a shade garden of various hosta plants fronting a stone walk to the neighbors and backed by azaleas, barberry, holly, and yew bushes. Across the driveway is a small mixed flower garden with a figurine accent next to a brick walk lined with knock-out roses and seasonal flowers.
The walk takes us into the backyard where 50 years of memories abound. Irises, lilies, lilies of the valley, sweet peas, and hostas came from both of their childhood homes. A brooder stove accent piece came from Mary Kay's childhood farm. Lilac bushes came from the owners of the pasture land this house was built on. The bushes now back the play tower and swing set, which have been enjoyed by George and Mary Kay's children, grandchildren, nieces, nephews, and many others. The tall evergreens almost 50 years ago were 3′ high and used by their children as obstacles to jump over.
A miniature railroad runs through the garden on the east, accented by miniature buildings, annuals, herbs, and boxwood hedges trimmed to look like miniature trees. Bridges span ivy plantings, carrying the train through a tunnel under a waterfall, around a fish pond, and back and forth past a miniature village, and more tunnels and ivy. George's father and grandfather were both railroad men.
The whole yard is enjoyed from a large beam and antique brick patio. Accenting the memory theme, the antique bricks came from the foundation of the old farm home where Mary Kay was born.
Dunehoo Garden
Bob & Linda Dunehoo view gardening as essential to their quality of life and the garden as an extension of their home. Their yard is a combination of gardening styles and plant selections as dictated by sun and shade patterns. While not every endeavor is a success, a large part of the fun lies in the effort. The garden consists of a sunny perennial border, areas for shade-lovers like ferns and hostas with a fairy garden and mini-hostas in hypertufa troughs, a veggie garden bordered by culinary and aromatic herbs, and ample green lawn for playing. Whether mowing, planting, weeding, or deadheading, both Bob and Linda see gardening as good exercise, as well as a great meditative endeavor. The fruits of their labor are ample booms for cutting, herbs for cooking, home-grown veggies, and an abundance of butterflies and pollinators for the enjoyment of grandchildren. At the end of a day of hard work, their garden is a nice place to relax.
Ezell Garden
When Don and Karla Ezell moved into their white colonial home which sits on nearly two acres in Enchanted Lake Estates, their yard looked nothing like it does now. They brought in truckloads of dirt and unearthed tons of limestone to create the landscape you see today. The tall screen of Allegheny Viburnum on the north was the first thing they planted. Karla and John have been down-sizing the amount of care their garden requires lately, replacing high-maintenance plants with ones that are more self-sufficient.
A winding path off the driveway that leads to a brick patio is bordered by a bed of self-seeding annuals and perennials, including heliopsis, gaillardia, yarrow, hyssop, lavender, and Knockout roses, providing a continuous display throughout the growing season. Near the patio you'll also find a flagstone-edged, perennial-bordered goldfish pond. Opposite the back of the house is a path through a tree line leading to what looks like a small cabin, but is actually the shed.
To the south, running along the wooded area that slopes down to the lake is a long, raised perennial border containing a mulititude of native plants including butterfly bush, milkweed, bee balm, and catmint placed there to attract pollinators. The border ends in an interesting area of brickwork paths and raised beds filled with daisies, coneflowers, and Russian sage that the Ezells call their test garden.
The Ezells continue to channel their efforts into creating a beautiful garden that requires minimal maintenance. Since this is the goal of so many gardeners, come see what knowledge and inspiration you can find at this stop of the tour!
Roach garden
Adapting one's landscape to changing patterns of sun and shade requires constant vigilance. Paul and Linda have done a good job of keeping up with the demands of their garden. A 45-year old Bloodgood Japanese maple provides dappled shade for begonias, hydrangeas, and hostas in the front. Native grasses, roses, and other sun-loving plants form a border along the side to the backyard which is anchored by a stately, 50-year old oak. A spacious patio and upper level deck provide spots to sit and enjoy the view. As you leave the back yard, notice the lovely Heritage River birch and hydrangeas that surround it. And finally, be sure to admire the large corner filled with a variety of perennials and annuals, Linda's favorite place to work and experiment. Its placement has allowed her to keep expanding the bed to accommodate new plants. The Roach garden is a wonderful example of how the right plant, in the right place really makes a difference.